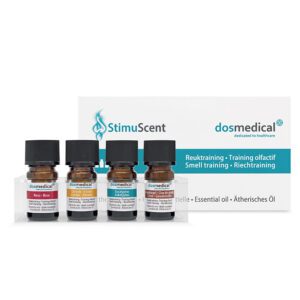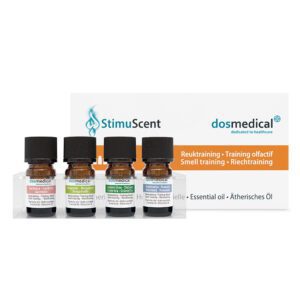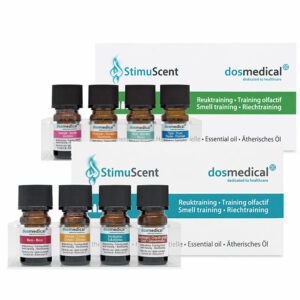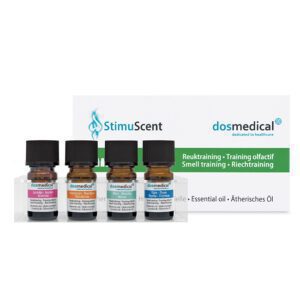 Smell training kit with oils
€20,00 – €38,50 excl. VAT
Smell training kit with 4 essential oils. The Dos Medical smell training kits will be delivered with an holder and English instructions.
The smell training kits are available from stock, worldwide shipping within 24 hours.
With the help of a smell training kit you can effectively stimulate the recovery of the sense of smell. Smell training has proven to be especially effective in cases of loss of smell due to head injury, severe upper respiratory tract infection (as a result of, for example, flu, corona or other viruses). If an olfactory disorder is diagnosed, recent studies have shown that training the sense of smell can be a supportive measure in the recovery process. On the advice of the ENT doctor, smell training can therefore be part of the treatment plan for a disturbed smell.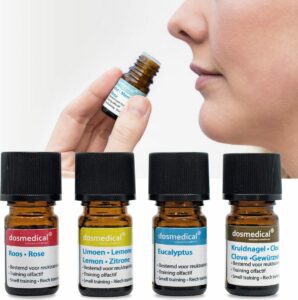 This training consists of intensively smelling 4 different scents twice a day and can be performed with the help of our smell training set with essential oils. This smell training kit was developed by the company Dos Medical (ENT shop) and is also known as StimuScent and can be used for training the sense of smell.
Dos Medical smell training kits
The smell training kits aims to restore the disturbed smell as well as possible. The training kits from Dos Medical are available in 3 versions so that you can vary the odours:
Dos medical set 1: Rose, Lime, Eucalyptus and Clove
Dos medical set 2: Mint, Jasmine, Thyme and Mandarin
Dos medical set 3: Green Tea, Rosemary, Bergamot, Gardenia
3 olfactory training kits have been chosen to provide more variation in smell training. The advice is to continue smell training for a period of 6 months. Since 1 set has an expiration date of 3 months (after opening the bottles), it is practical to buy 2 smell training kits immediately so that you can train your sense of smell for a total of 6 months. If you order sets 1 + 2 at the same time, you are also slightly cheaper than if you order the separate sets.
Practical information
After opening, the set has a shelf life of three months. If you want to have a training set with a longer shelf life we advice to use the Sniffin' Sticks instead.
One vial contains 1.5 to 3 ml of oil. The bottles have a total capacity of 10 ml and are therefore not completely filled as this is not necessary for an effective smell training.
The sets will be delivered including an English manual.
We have the sets available from stock. After ordering, we will send it to you within 24 hours.
Additional info: an (odorless) diluent has been added to the oil in the bottle Rose and Jasmine, namely isopropyl palmitate. This is because Roes and Jasmine would unduly make the smell training set unnecessarily expensive. However, this diluent will solidify / crystallize if it gets too cold (e.g. if you keep the bottle in the refrigerator. As soon as the oil returns to room temperature, it becomes liquid again. All this has no effect on the smell quality.
On this page you can find more background information about smell training.
Instructions smell training
The following instructions are included in the Dos Medical manual:
Open one of the jars. The order doesn't matter.
Hold the jar approx. 3 cm under your nose. Do not touch the jar with your nose.
Relax. Take a slow, deep breath in through your nose. Smell with attention, look at the jar to see which odor it is. Be aware of this smell and don't smell blindly.
Repeat step 3 four times. You have then inhaled this odor a total of five times.
Close the jar and give your nose a rest for 5 minutes and then move on to the next odor.
Repeat this process with all odors in the set. On average, the session lasts 30 minutes.
Repeat the training twice a day (morning/evening). Per set, for 12 weeks.
Additional tips
Try to smell other things besides the 4 odours in the kit. For example herbs, flowers in the garden or perfumes. Anything that is safe to smell helps to stimulate the sense of smell.
Hang in there and don't give up. To notice the effect of the smell training, you must carry out the training for several months. In some people the first effect is noticeable after a few weeks, in other cases it can take months. Unfortunately, a positive effect is not assured for everyone.
It is advisable and interesting to keep a log of the smell training. Make notes of what you observe so that you can observe any progression. This does not have to be daily, but once a week or 2 weeks is more than enough. It is important that you have patience and do the training consistently. Unfortunately, the nerves that restore the olfactory system only slowly make patience and perseverance are important.
FAQ about olfactory training
How long should you continue smell training? To notice the effect of the smell training, you must carry out the training for several months. Various studies have shown that for an optimal effect the training should be carried out for 6 months. It is also important that you do it every day. In the morning and in the evening. Keep the smell training kit in a handy place so that you don't forget and you can train your sense of smell daily. Training more often and/or training with multiple scents is of course possible and can certainly be encouraged. The more you stimulate your sense of smell, the better it is for recovery.
How many times a day should I smell the bottles? For an effective workout, you should train 2 times a day. Preferably in the morning and in the evening. So put the smell training set in a handy place so that you don't forget it.
Who is smell training suitable for? Losing or missing the sense of smell can have various causes. Some people are born without a sense of smell and other people lose their sense of smell after a viral infection (such as corona), traumatic brain damage or a long-term cold. The effect of smell training has been investigated in various clinical studies and it appears that it mainly has an effect on people who have an smell disorder as a result of a virus infection, such as is the case with a corona infection, cold or flu. In addition, research also indicates that scent training has a positive effect on restoring the sense of smell in traumatic brain injury. In traumatic brain injury, the effect depends on how severe the original injury was. In all cases, it is recommended to start the smell training as soon as possible after the loss of the sense of smell.
Does it matter which odours I use? Many of the olfactory training studies have used the same four scents: lemon, rose, clove, and eucalyptus. However, there is no evidence to say that these are the only 'correct' scents to use, so feel free to add other scents as well. In any case, it's a good idea to choose scents that you recognize and remember. Try to stimulate your sense of smell as much as possible, even at times when you are not engaged in olfactory training. Think, for example, of a walk through the park where you can smell flowers or smell an orange while eating. All this will help you boost the sense of smell and recovery.
My smell is gone, is this because of corona? That is certainly possible, but of course we cannot say for sure. While COVID-19 has become indispensable, it is now more than clear that the loss of smell and taste is a symptom of infection with the COVID-19 virus. Post-viral anosmia is known to be one of the leading causes of loss of sense of smell in adults, accounting for up to 40% of anosmia cases.
| | |
| --- | --- |
| Weight | N/A |
| Select version | Set 3: Green Tea, Rosemary, Bergamot, Gardenia, Set 1: Rose, Lime, Eucalyptus, Clove, Set 1+2: Combination of both sets, Set 2: Mint, Jasmine, Thyme, Mandarin |
You may also like…
ENT products

€

10,50 excl. VAT

The nasal douche will be delivered including 4 sachets of nasal rinse salt and a manual.

The nasal douche helps with sinus infections, hay fever, colds and after nasal surgery. Developed in collaboration with ENT doctors.

ENT products

€

14,00 excl. VAT

NasuMel nasal ointment (15 grams). Do you suffer from dry, irritated or damaged nasal mucosa, wounds in the nose or nosebleeds? Then try NasuMel wound nasal ointment.

We have this product available from stock (shipping within 24 hours).

(ODOFIN) Burghart Sniffin' Sticks

€

45,00 –

€

85,00 excl. VAT

Smell training kit with 4 Sniffin' Sticks, also know as the ODOFIN Duft Quartett or Smell Quartett. The kits will be delivered in a box with gloves and instructions. The following versions are available:

Set 1: rose, eucalyptus, lemon (lime) and cloves
Set 2: mint, thyme, jasmine and mandarin
Combination of both sets

Available from stock, worldwide shipping within 24 hours.