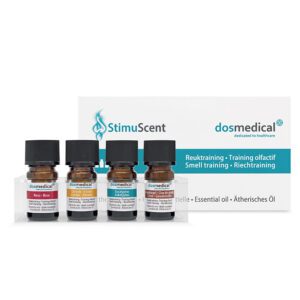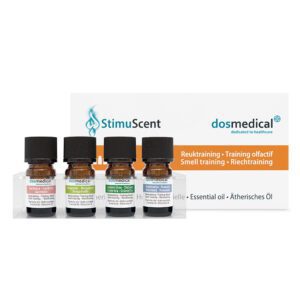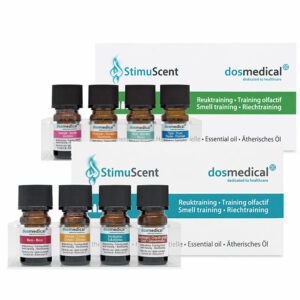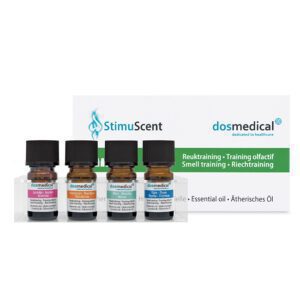 Smell training kit with oils
€20,00 – €39,50 excl. VAT
Dos Medical Smell training kits with 4 essential oils. The StimuScent smell training kits will be delivered with an holder and English instructions.
The smell training sets are available from stock, worldwide shipping within 24 hours.
Smell training kit with essential oils
When an olfactory disorder is diagnosed, recent studies have shown that smell training can help in the process of recovery. On the advice of the ENT doctor, smell training can be part of the treatment plan. Smell training is based on the research of Professor Thomas Hummel from the University of Dresden. This training consists of intensive smelling of 4 different smells twice a day. You can carry out this training with 4 essential oils. This smell training set can be used to train the sense of smell.
Dos Medical smell training kits
The daily smell training kits are developed by Dos Medical and aims to restore the disturbed smell as well as possible. The Dos Medical training kits are available in 3 versions:
Dos medical smell training set 1: Rose, Lime, Eucalyptus and Clove
Dos medical smell training set 2: Mint, Jasmine, Thyme and Mandarin
Dos medical smell training set 3: Green Tea, Rosemary, Bergamot, Gardenia
Three different sets of odors have been developed to provide more variation in the odor training. This is more pleasant for the user. If you order set 1+2 in a combination package the price is slightly cheaper than when you order the individual sets.
StimuScent Smell Training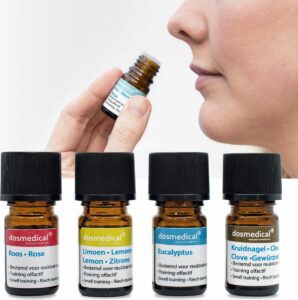 The smell training sets are now available under the new name StimuScent. In the near future, this name change will be visible on both the packaging and manual of the Dos Medical olfactory training sets. The amount of oil in the bottles will also be increased from 1.5 ml to 3 ml.
Practical information
After opening, the set has a shelf life of three months. If you want to have a training set with a longer shelf life we advice to use the Sniffin' Sticks instead.
One vial contains 1.5 to 3 ml of oil. The bottles have a total capacity of 10 ml and are therefore not completely filled as this is not necessary for an effective smell training.
The sets will be delivered including an English manual.
We have the sets available from stock. After ordering, we will send it to you within 24 hours.
Additional info: an (odorless) diluent has been added to the oil in the bottle Rose and Jasmine, namely isopropyl palmitate. This is because Roes and Jasmine would unduly make the smell training set unnecessarily expensive. However, this diluent will solidify / crystallize if it gets too cold (e.g. if you keep the bottle in the refrigerator. As soon as the oil returns to room temperature, it becomes liquid again. All this has no effect on the smell quality.
On this page you can find more background information about smell training.
| | |
| --- | --- |
| Weight | N/A |
| Select version | Set 3: Green Tea, Rosemary, Bergamot, Gardenia, Set 1: Rose, Lime, Eucalyptus, Clove, Set 1+2: Combination of both sets, Set 2: Mint, Jasmine, Thyme, Mandarin |
Perhaps also interesting?
ENT products

€

10,50 excl. VAT

The nasal douche will be delivered including 4 sachets of nasal rinse salt and a manual. The nasal douche helps with sinus infections, hay fever, colds and after nasal surgery. Developed in collaboration with ENT doctors.